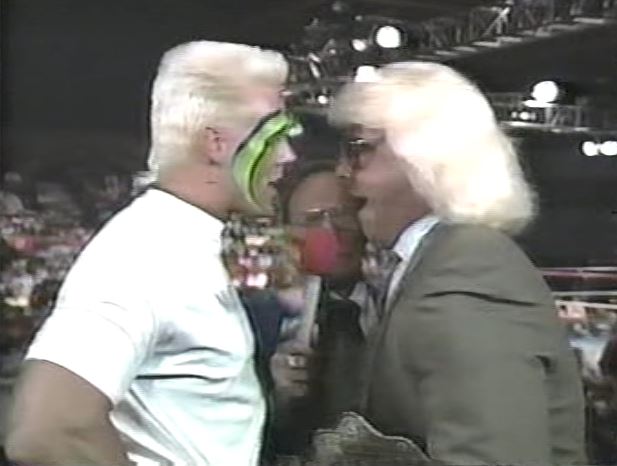 Please stay safe and healthy! If you can afford it and love what we do, please consider supporting our show by becoming a BTT Podcast Patreon Member! Also, purchase a BTT Podcast t-shirt or two from our Pro Wrestling Tees Store! 
This week's Time Stamps for our NWA Saturday Night on TBS recap from July 7, 1990 review are as follows:
Opening Shenanigans, Doc continues to try to no sell his team's problems - Los Vaqueros Catorce y Tres ( 0:01:08 ) 
Doc continues to avoid the elephant in the room! The Cowboys! ( 0:05:30 ) 
Who's getting screwed in the college football playoff selection this year. ( 0:07:30 ) 
https://www.patreon.com/BookingTheTerritory, ANNUAL MEMBERSHIPS SAVE YOU 10% WHEN SIGNING UP FOR THE YEAR WHICH IS 1 MONTH FREE! ( 0:13:04 ) 
Apple Podcast and Podcast Addict 5-star review shoutouts! ( 0:15:25 ) 
NWA Sat Night on TBS recap from July 7, 1990 Doc hated not being prepared on last week's show when he watched the wrong episode! ( 0:21:01 ) 
We continue to be ad-free so please consider becoming a BTT Patreon member at https://www.patreon.com/BookingTheTerritory! ( 0:22:20 ) 
Tommy Rich & Tim Horner vs The State Patrol and a story from Arn Anderson & Tim Horner's 1982 Thanksgiving in the Mid-South territory. ( 0:42:11 ) 
Be like Mikey in DFW and use our Associate's link! ( 1:11:15 ) 
Ratings and Rolex Time. ( 1:11:58 ) 
Information on Harper's Video Shoutout, Life and Relationship Advice. ( 1:13:45 ) 
Doc wants to know how BTT stays drama free and he asked Mike how that is a thing. ( 1:15:09 ) 
Information regarding Harper's Video Shoutouts and we play Harper's first shoutout in case you're not on social media! 
1. First things first, email Harper with the details of what you want in your video shoutout or who the shoutout is too. His email address is ChrisHarper16Wildkat@gmail.com. Also in that email tell him what your paypal address is.
2. Paypal him $20. Harper's PayPal is, get your pen and paper out, cc30388cc@yahoo.com. 
3. Harper will then send you the video to the email address that you emailed him from requesting your video shoutout.
That's it! Don't email the show email address. Email Harper. If you missed any of those directions, hit rewind and listen again..
Official BTT Facebook Page: https://www.facebook.com/BookingTheTerritory
BTT Facebook Group! https://www.facebook.com/groups/281458405926389/
Pay Pal: https://www.paypal.me/BTTPod
Follow us on Twitter @BTT_Podcast, @Mike504Saints, @CJHWhoDat and Like us on Facebook.